The Elizabeth Condominiums enjoy the abundant cultural and culinary offerings of the Pearl District, one of Portland's most sought-after neighborhoods. World Foods Portland provides a variety of gourmet provisions, as well as grab-and-go options for patrons on the move; nab tickets to world class productions at Portland Center Stage, where entertainment is at the center of the hub; or indulge in Portland's seasonal offerings at Trattoria Gallo Nero, where diners can find primo Italian cuisine just steps from this centrally-located building.
Posted on August 27, 2018 at 11:53 pm
MJ Steen
Category:
Uncategorized
Tagged

Condo, Elizabeth Condo, NW Portland, PDX, Pearl District, PNW, Portland, Portland Center Stage, Portland Oregon, Portland Real Estate, The Pearl, The Pearl District, Trattoria Galla Nero, World Foods
Design Within Reach has opened their impressive Portland Studio in the Pearl. Located at 825 NW 13th Avenue, this is a definite upgrade from their old store but still features all of their modern classics. For more information visit their website.
Posted on January 25, 2017 at 8:24 am
MJ Steen
Category:
Uncategorized
Tagged

Design Within Reach, MJ Steen, MJ Steen Group, Modern Design, Modern Furniture, NW Portland, Pearl District, Portland, Portland Architecture, Portland Design, Portland Furniture, Portland Oregon, Portland Realtors, The Pearl, The Pearl District
By Andy Giegerich, Portland Business Journal
A national apartment search company has offered an intriguing look at the way Portland's skyline has changed since 2007.
The company, RENTCafé, offers this well-crafted then-and-now glimpse at the city's skyline over the last nine years. The company used Google Street images to make the contrasts in the rapidly changing Rose City.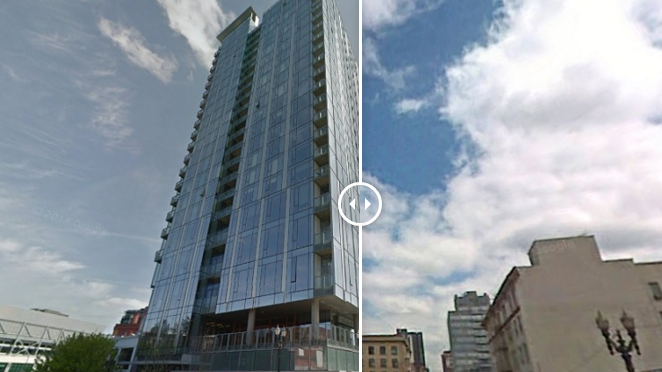 The company's blog features looks at the blocks currently containing such projects as Twelve West, First & Main and Cyan.
The then-and-now blog is part of RENTCafé's efforts to bring apartment availability updates to the masses.
Posted on August 8, 2016 at 7:36 pm
MJ Steen
Category:
Uncategorized
Tagged

MJ Steen Group, NW Portland, PBJ, PDX, PDX Real Estate, Portland, Portland Business Journal, Portland Market Update, Portland Real Estate Agents, Portland Realtors, SW Portland, The Pearl, The Pearl District, Windermere Stellar