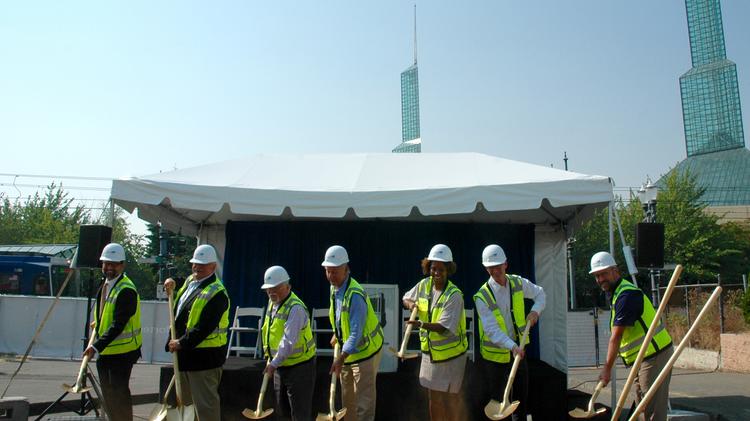 By Jon Bell, Portland Business Journal
Barry Schlesinger summed up the Oregon Convention Center Hotel project simply and succinctly at a ground-breaking ceremony this morning.
"Today's been a long time coming," he said.
Schlesinger, a partner and owner of the real estate-focused Schlesinger Companies, was referencing not only the nearly 30 years that it's taken to make a convention center hotel a reality, but also to his family's 11-year involvement in the project. His firm owns the land where the hotel will be built and is selling it to Mortenson, the construction and development company that will build the hotel.
"It took all of us working together to carry this project through the toughest real estate market I have ever seen," Schlesinger said.
Schlesinger was one of the leaders and officials who took the stage at the groundbreaking ceremony this morning at the site, which sits just north of the Oregon Convention Center. Joining him were Portland Mayor Ted Wheeler, Tom Hughes of Metro, Dan Mehls of Mortenson, Karis Stoudamire-Phillips of the Metropolitan Exposition and Recreation Commission, Tom Lander of Mortenson and Kimo Bertram of Hyatt.
Each thanked long lists of people who have worked for years to bring the Oregon Convention Center Hotel to fruition. The idea for one has percolated since the Convention Center itself was built in 1989, but finances, politics and even some legal challenges kept the project from advancing.
But everything started to finally line up over the past year or two, and now, the 600-room, $240 million Hyatt Regency Portland at the Oregon Convention Center is on its way.
"We're standing on the shoulders of many, many people and organizations … whose leadership and persistence and dedication brought us to this important moment, " Wheeler said.
Though today's groundbreaking was largely ceremonial, building permits have been issued and work is expected to get underway in earnest in the coming weeks.
The project is expected to create more than 2,000 construction jobs and an additional 950 hotel and hospitality jobs.
According to an analysis posted on Metro's website, the new hotel is expected to attract between five and 10 new mid-sized conventions each year. It could also boost annual hotel business by 70,000 to 110,000 new room nights, kick up convention-related tourism spending to $600 million a year and generate more than $10.3 million in new state and local tax revenues.
Funding for the hotel will include $60 million in bonds backed by lodging tax revenue, $4 million from Metro, $10 million from lottery funds and $165 million from Hyatt and Mortenson.
It is expected to be complete by the end of 2019.